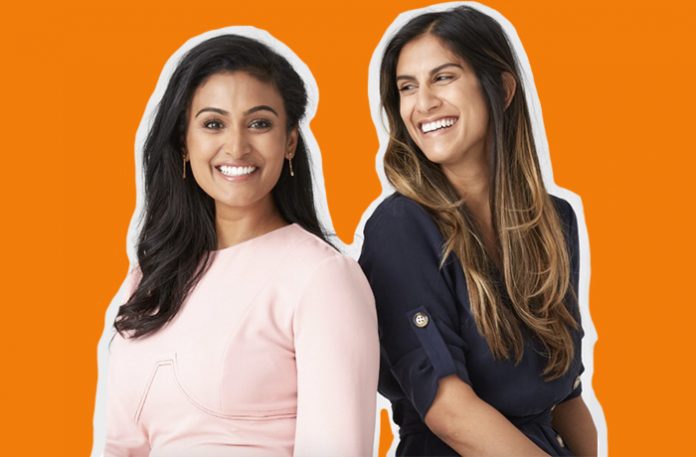 By Anvita Reddy
Former Miss America Nina Davuluri and Rooshy Roy have delved into the Indian culture of beauty, science, and Ayurvedic healing for their new beauty and skincare brand Aavrani.
What started out as a startup pitch and a finalist in the Penn Wharton Startup Showcase 2018 became a reality in July 2018. Aavrani is a luxury clean skincare brand rooted in the science of Ayurvedic healing. Davuluri and Roy understand, thanks to personal experiences, the cultural sensitivities and struggles of not being the fairer complexion. It led to them using toxic bleaching products.
They created Aavrani, which aims to empower women to be confident in their skin and aims to highlight the beauty in representation and diversity. In fact, they derived their name "Aavrani" from the Hindi word rani which means queen, encouraging everyone to embrace their natural beauty and be a #YouQueen.
Aavrani extends their empowerment into their philanthropy through their social impact partner, the Shanti Bhavan School, which provides access to education and mentorship to children in India. Aavrani focuses on a preventative, long-term approach to healthy skin. They embrace the natural beauty movement by providing non-toxic, all natural skincare  derived from their Indian culture and heritage in order to #GlowAndConquer.
Here are 4 of their all star products:
Glow Activating Exfoliator, $70 
This 2-in-1 cleanser and mask gently exfoliates, brightens, and evens out skin tone, according to their website. It is formulated with organic turmeric, neem, jojoba, and raw honey. Turmeric is anti-inflammatory but tends to leave a yellow tint in DIY home remedies. Luckily, the Glow Activating Exfoliator combines turmeric with a clay base so that you get the benefits of turmeric without the yellow tint.
Balance Restoring Serum, $60 
The Balance Restoring Serum is a toning polish that removes toxins while reinstating the skin's natural moisture barrier. It is formulated with tea tree oil, cucumber extract, chamomile flower, and witch hazel.
Softening Hydra-Whip, $55 
This is a hydrating yet lightweight moisturizer that soothes and nourishes the skin. It is formulated with organic coconut milk and oil, meadow foam and rosehip seed oils, shea nut, and lavender extract.
Eye Rejuvenating Elixir, $75 
This is a revitalizing eye treatment that minimizes dark circles and puffiness, stimulates collagen production and evens out fine lines according to their website. It is formulated with sweet almond oil, rose water, avocado oil and vitamin E.
The Aavrani Ritual, $200 
The Aavrani Ritual is a complete full-sized set of all four of the products listed above. To use The Aavrani Ritual in its proper order follow these steps: Glow Activating Exfoliator, Balance Restoring Serum, Softening Hydra-Whip, Eye Rejuvenating Elixir. The complete ritual is formulated for combination skin but can be used for all skin types as long as you adjust the use of each product to your likings.
It's inspiring to see Davuluri and Roy take inspiration from their heritage to bring us, especially women of color, skincare and beauty products that might just do wonders for us.
"From being an ex-premed student to creating content for HerCampus and Spoon University, Anvita Reddy is breaking the South Asian norms and pursuing her passions. She is currently pursuing a Masters in Communications and Media and she am the Social Media Coordinator at MannMukti. She can also be found binge watching all things Bollywood and Hollywood. As an avid beauty and fashion junkie, she is often researching skincare on PubMed or at Sephora swatching her heart out. You can find her on Instagram and Twitter."